Top transfer taxi Plovdiv - Sofia
How many times have you wished to go from Plovdiv to Sofia or from Sofia to Plovdiv, and you did not have a car?
We are absolutely sure that it is a very often occasion.
We provide private taxi transfers all around Bulgaria.
You have to catch a flight from Sofia Airport or need to go to a late night party and need a ride back to Plovdiv? Or you are arriving at the Sofia airport and you need somebody to pick you up? You must be on time for a job interview or a business meeting? What are you still thinking of? Call us immediately and book your private taxi from Plovdiv to Sofia or from Sofia to Plovdiv.
We offer safe, smooth & comfortable private travel, excellent prices, high quality service and 24 hours availability!
After you contact us, we will ask you for further information – date/time/adress
. Let us take care of your comfort and safety during the trip. Relax and have a rest while travelling, or enjoy the view through the window. In any case, you would'nt need to worry about anything. You will get from Plovdiv to Sofia or from Sofia to Plovdiv fast and on time!
The distance between Plovdiv and Sofia is about 145-155 km (depends which point in Sofia), so the taxi transfer takes no more than 75-100 minutes depending on traffic. You will not even notice the travel as it is fast and relaxing. We'll take care of everything. Your only responsibility is to tell us your needs and let us satisfy them. We will charge you reasonably because we insist to be the best service provider at the best price.
Get your taxi transfer from Plovdiv to Sofia and enjoy the ride! If you're interested to rent a car with a driver, doesnt matter hourly or daily hiring, you can contact us!
Transport, transfer, taxi, rent a car, rent a car with a driver, limusine? We can help you and arange your traveling! We work with responsible and very reliable professionals who will take care of your pleasant and peaceful transfer from Sofia (the capital) to Plovdiv. We are here to help you get from Sofia to Plovdiv safe, comfortably and on time!
For your safe arrival choose us! Contact us for more information!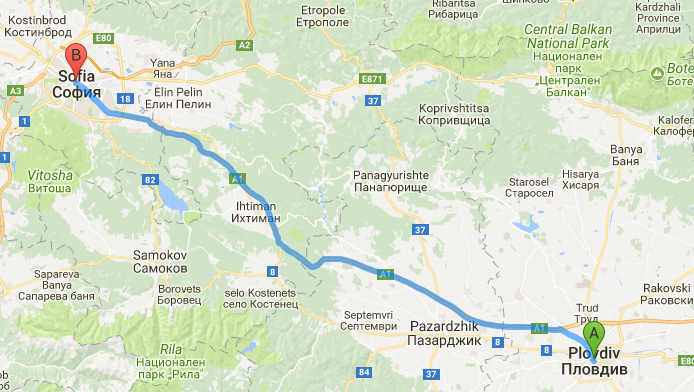 Book taxi from Plovdiv to Sofia now